Overview
Transition is the last premium large-scale distribution location within 11kms of the Brisbane CBD. It is a unique infill site preserved as part of Archerfield Airport and is now being released for leasing opportunities.
The estate is ideal for "last mile", logistics, cold store, aerospace and manufacturing businesses.
Transition provides a wide range of flood free sites to accommodate buildings from 2,500 sqm to 50,000 sqm GFA and up to 50 metres in height. Archerfield Airport Corporation can Design & Construct buildings to suit your requirements with flexible site layouts and leasing options available.
This convenient site brings all of South-East Queensland within easy reach via B-Double routes. The close proximity to major sea port and rail freight terminals puts all of Australia, and indeed the world, at your doorstep.
What every business needs: a great location.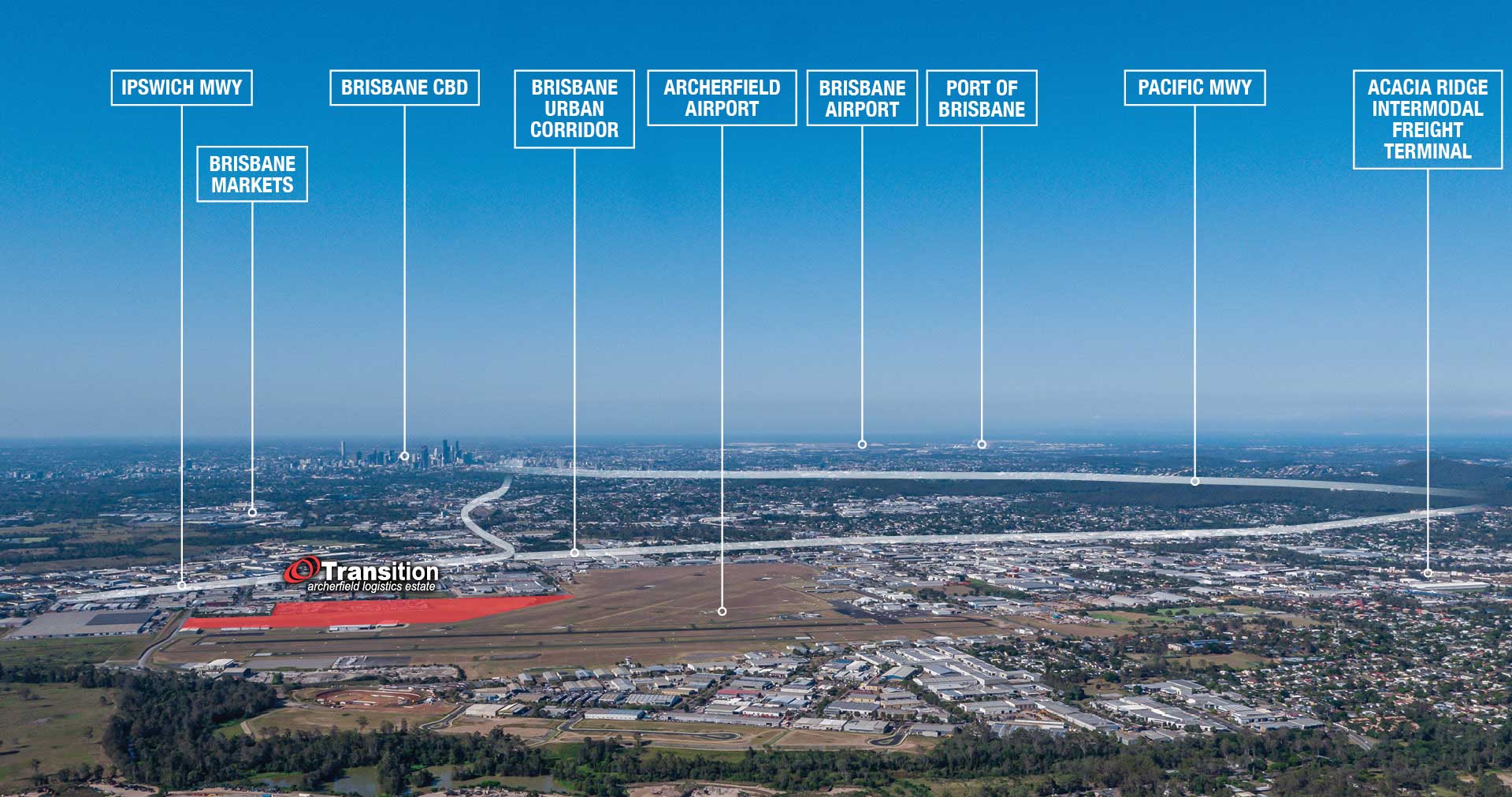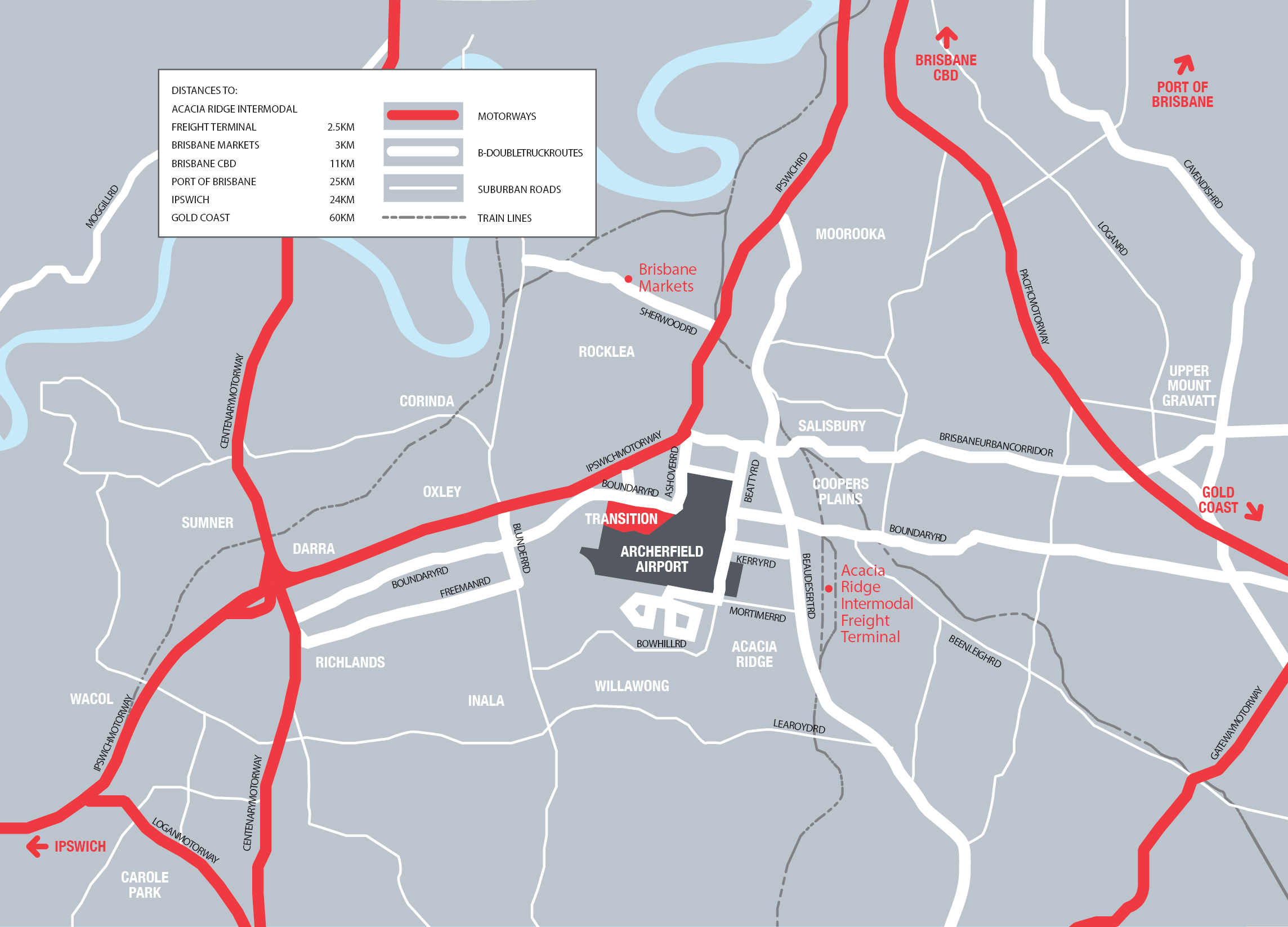 Transport Links
Give your business a competitive edge with these great transport links.
At Transition your business will have unbeatable access to key road, rail, air & sealinks, including:
Archerfield Airport
Right at your fingertips for executive travel and urgent parts deliveries.
Brisbane Domestic / International Airport u0026 the Port of Brisbane
Less than 30 minutes away.
Acacia Ridge intermodal freight terminal
Just 2.5km away, providing you with an easy connection to Australia's rail network and the Port of Brisbane.
Major Road Links
Three toll-free motorways (Ipswich, Pacific, Centenary) along with the Logan Motorway and Brisbane Urban Corridor are all within easy reach.
30 metre Au0026B-double HML vehicles
Approvals in place for PBS 2B vehicles up to 85 tonnes significantly reducing costs and maximising operational efficiencies.
Within 20 minutes drive
---
750,000 residents
83,000 business
Benefits
The flexibility your business needs, the location you desire.
Transition is set to become one of Australia's premier industrial estates.
Here's how your business could benefit from being located at one of our sites:
Outstanding transport links
Your business will have convenient access to major rail, toll-free roads, sea and air links.
Access to growth corridors
You'll be positioned right in the middle of Brisbane's traditional industrial heartland and near some of Brisbane's fastest growing residential areas.
24/7 operations
With no noise restrictions, you'll have the freedom to operate 24/7 with up to 85 tonne A u0026 B-Double HML vehicles.
Flood-free space
All sites are located above the 2011 flood level.
Flexible leasing options
Purpose built facilities from 2,500 sqm to 50,000 sqm GFA and up to 50 metres in height with additional expansion land available to future proof your operations.
Masterplan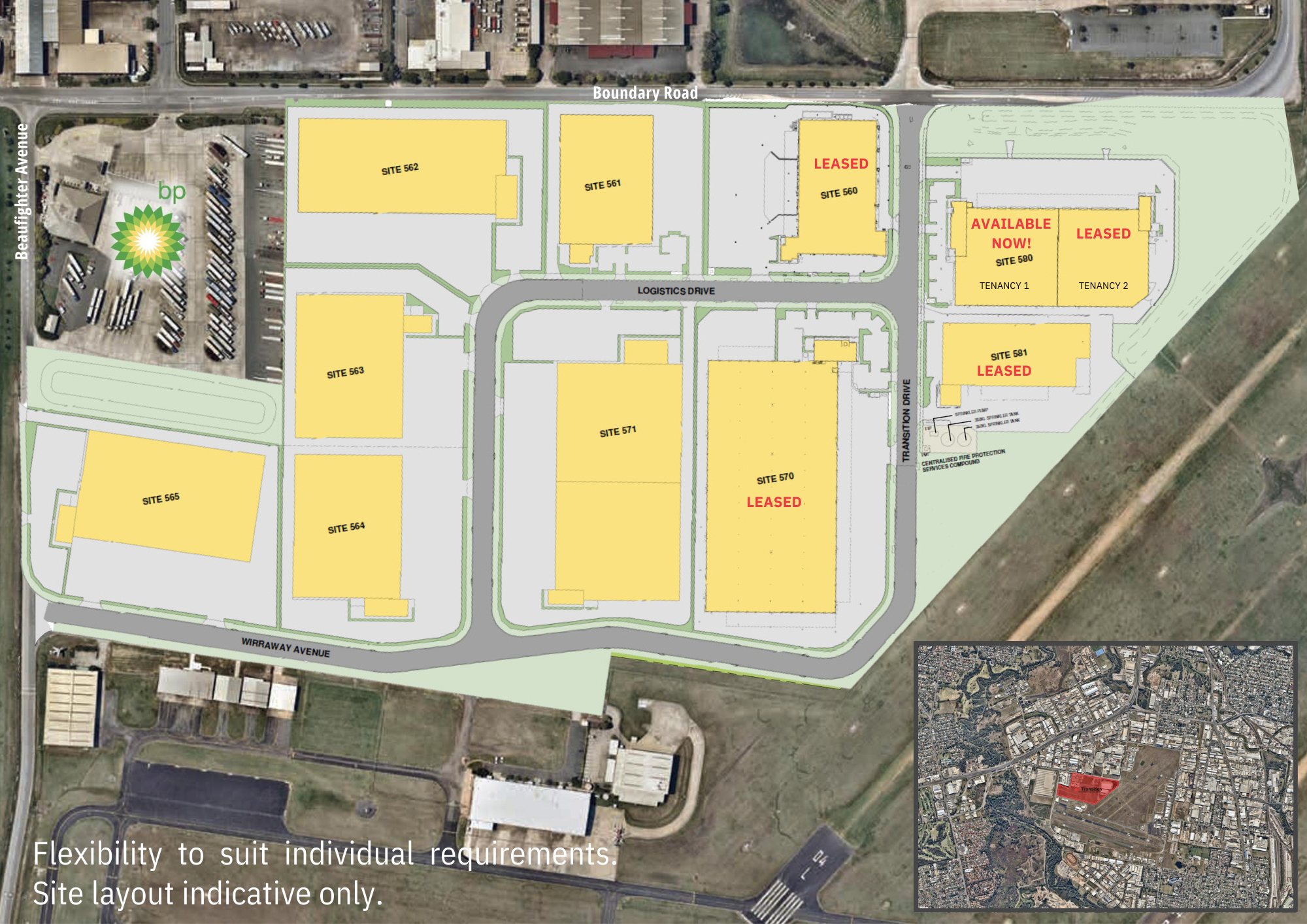 Click here to download a high resolution PDF of the Masterplan